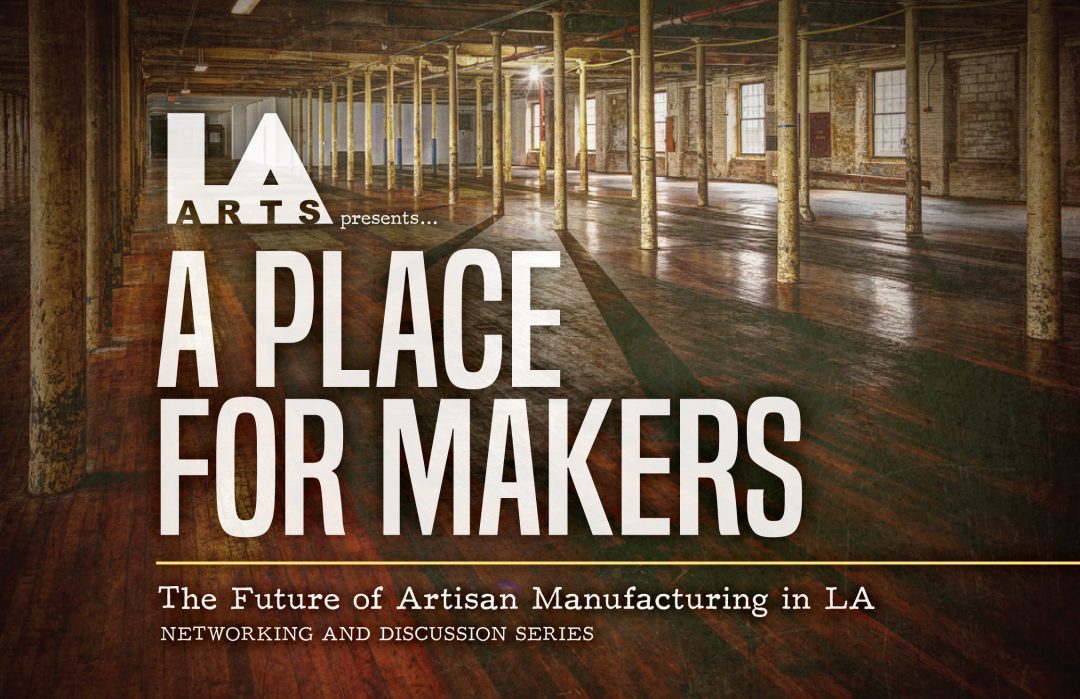 L/A Arts is pleased to announce the Place for Makers, a discussion and networking series to be hosted at various locations in Lewiston and Auburn. The series kicks off with Mike Rancourt of Rancourt  & Co. Shoecrafters on March 29th from 6-8pm. Discussion topics include production scaling, workforce development and opportunities in LA. Refreshments will be served.
The Place for Makers series focuses on introducing a new generation of artisan-makers to LA. With support from a National Endowment for the Arts Our Town Grant and in collaboration with Maine College of Art, Lewiston Auburn Economic Growth Council (LAEGC), and the Pratt Institute, L/A Arts is launching a series of networking and professional development sessions that will gather artisans from around the state at key locations in LA to show off the resources, creative talent, potential live/work space, and business support services available there.
Upcoming events are scheduled for Wednesdays through the end of May. The schedule and registration links will be posted on the L/A Arts website and social media.
FMI:
L/A Arts – Louise Rosen, Director
director@laarts.org
207 782 7228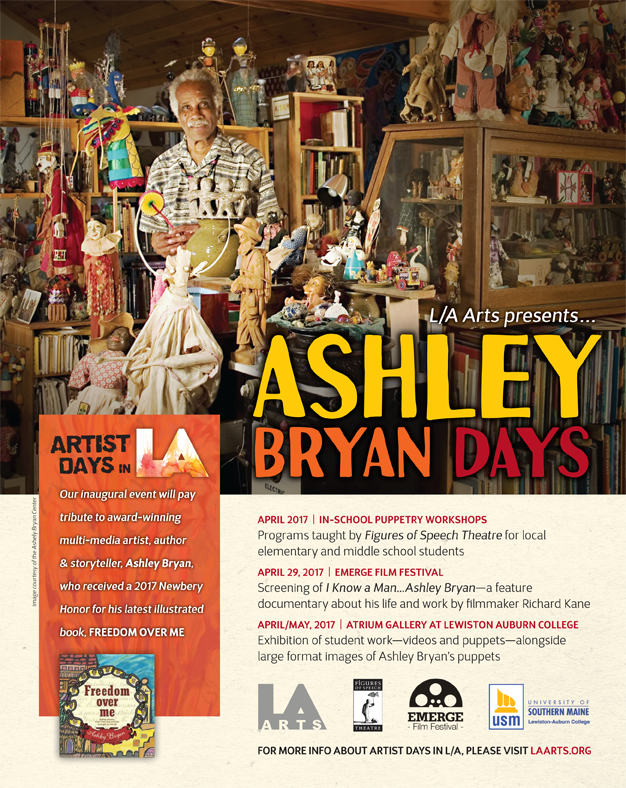 L/A Arts, the arts agency for the cities of Lewiston and Auburn, Maine has announced a new initiative, "Artist Days in LA." The first edition will be a tribute to award-winning author, multi-media artist, and storyteller Ashley Bryan whose most recent book, Freedom over Me, about the imagined lives of eleven slaves, is the recipient of the Newbery Medal Honor.
"Ashley Bryan Days in LA" will unfold over a two-month period beginning in April, with in-school puppetry workshops by Figures of Speech Theatre, inspired by Ashley Bryan's storytelling and puppets. On Saturday, April 29th the Emerge Film Festival (taking place throughout Lewiston/Auburn April 27, 28 & 29) will screen a feature documentary about Ashley Bryan's life and work by filmmaker Richard Kane, titled "I Know a Man…Ashley Bryan". On the weekend of May 6th, the Atrium Gallery at USM's Lewiston Auburn College will open an exhibit of large format images of Ashley Bryan's puppets, alongside the work made by the students, in an exhibit running through June 2nd.
In a joint announcement, Lewiston and Auburn Mayors Macdonald and LaBonte stated, "The Twin Cities are pleased to proclaim the first 'Artist Days in LA,' beginning with a tribute to Ashley Bryan, a man whose many artistic achievements have inspired generations. 'Artist Days in LA' will contribute to an enduring impression of our cities' respect for the important role the arts play in the growth and well-being of the community and its citizens."
Said L/A Arts Director Louise Rosen, "Ashley Bryan is a national treasure, and his much-beloved books have touched children and families everywhere.  As seen in the documentary film, he is a prodigious artist in many media, from stained glass to paint to collage, as well as poetry and song. Ashley's wonderful found-object puppets sparked the idea for us to work with Figures of Speech Theatre to develop in-school workshops. It made absolute sense to collaborate with the Atrium Gallery at USMLAC, as Dean Joyce Gibson serves on our board. It's a beautiful gallery and will be a joy to have the resulting student work exhibited alongside large format images of Ashley's. A special exhibit of his book art was first presented there a few years ago, and he received an honorary degree from USMLAC in 2013. LA has a deep association with artists and artisans, and Artist Days in LA confirms the spirit of that association going forward."
Maine Magazine is the exclusive magazine sponsor of "Ashley Bryan Days in LA." Additional sponsorships are available.
FMI: director@laarts.org, 207.782.7228
Artist Days in LA: Ashley Bryan Days
Events & Activities
Children and students with ID admitted free to all events!
April 29 | Emerge Film Festival Programming

11:00am

Free book reading "Freedom Over Me" by Ashley Bryan
Rinck Advertising – street level stage | 113 Lisbon Street | Lewiston



12:15

Followed by a reception in honor of Ashley Bryan, sponsored by the Maine Film Office
Rinck Advertising – 2nd floor cafe | 113 Lisbon Street | Lewiston



1:00pm

Free panel discussion "The State of the Arts in Maine"
Rinck Advertising – street level stage | 113 Lisbon Street | Lewiston
A panel discussion with sculptor Charlie Hewitt, filmmaker Sian Evans, musician Sean Morin. Moderator: Louise Rosen, Consulting Director, L/A Arts



3:30pm

Screening "I Know a Man…Ashley Bryan"
Franco Center | 46 Cedar Street | Lewiston
Followed by a q&a with filmmaker Richard Kane and Ashley Bryan
May 6
1:00 – 3:00pm

Opening Reception
Student work inspired by Ashley Bryan
Exhibit of found object puppets and video of shadow puppets
Exhibit runs until
June 2
The Atrium Gallery | USM Lewiston Auburn College
51 Westminster Street | Lewiston

About Ashley Bryan
Ashley Bryan first came to Maine after serving in WWII, to attend the Skowhegan School of Art. He settled here permanently in 1988 after retiring as emeritus professor of art at Dartmouth College. Although not published until he was forty years old, he has written and illustrated over 50 books, based on African folktales, or inspired by African-American spirituals and lives.  He has won numerous awards and nominations, including a Fulbright Fellowship and the prestigious Laura Ingalls Wilder and John Newbery Medals. He  lives in Islesford, on Little Cranberry Island.
About the Emerge Film Festival
The mission of Emerge Film Festival is to build awareness of independent films and to support a diverse cross-section of filmmakers, from established to "emerging" artists, from Maine, the U.S. and the world. We aim to promote the motion picture arts and to provide educational arts and culture opportunities for student filmmakers, the Lewiston/Auburn community and beyond.
Additional Programing at Auburn Public Library