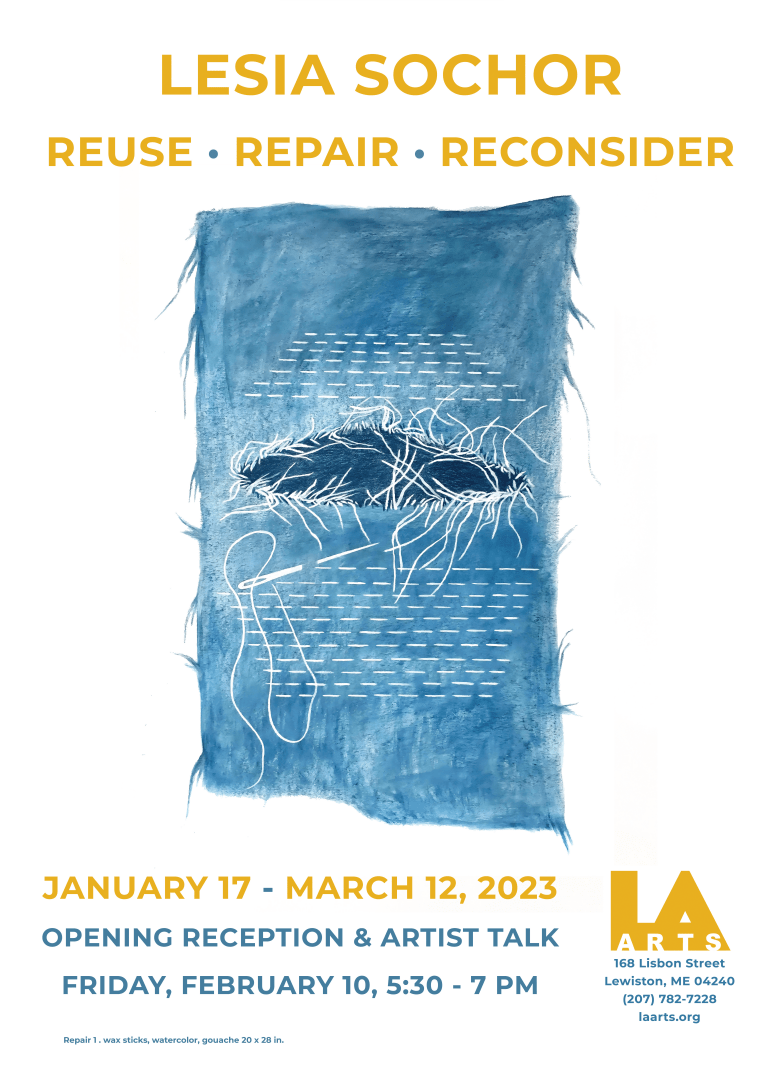 Waste was not a word or concept my childhood family could conceive of. My Ukrainian immigrant parents fixed, repaired and mended. It was a time when frugality was King and necessity was Queen. A time before credit cards, a time when less was less and that was OK. Consumerism was not yet eating away at the very core of our souls.
Clothes were sewn, repaired, and passed on, or kept as treasured garments. I was brought up to practically idolize fabric. The idea of ripping jeans intentionally would have been abhorring. Even today, for me, this style is somehow irreverent and almost brutal to the fibers.
The ability to sew, re-purpose and repair clothing opens up a world of reuse and recycling and helps keep textiles out of landfills. Ninety two million tons of clothes are thrown away every year.
Eco crafting, is being driven by young adults who are questioning and often rejecting the excesses of materialism. They are discovering the pleasure in self sufficiency and how stitches contribute to the life and story of a garment. Louise Bourgeois said 'Clothing is an exercise in memory. It is also a kind of emotional repair'
Three years ago, I took a deep dive into the notion of repair. My paintings use the image of ripped jeans, and I 'stitch' them with gouache, keeping in mind the Japanese practice of Boro; re-purposing and stitching worn cloth to prolong the life of a garment. Every scrap of fabric was used. I investigate mending as an intervention, as metaphor, as a call to action; not only to restore material things, but as an intention
to repair the fractured parts of ourselves, and our ruptured world; mend the broken/torn pieces to make it whole again.
In addition to the individual paintings, a large 'grid/quilt' of 20 10×10" squares will be exhibited. Using wax sticks, watercolors and gouache, the squares summoned me as an artist to document and bear witness to ongoing events. The 'quilt' beckons us to repair the virus, immigration, inequality, justice, strife, violence, reproductive rights and climate change, and restore love, hope, and compassion. It is an invitation to begin a dialogue about our place in these churning times. Amanda Gorman wrote "Being American is more than the pride we inherit. It's the past we step into and how we repair it"
Broadening the scope of the exhibit will be an interactive piece. A wall of ripped jeans, some mended, others left to be mended, will serve as a conduit for audience participation and tactile process. The 3 pairs of mended jeans are artfully repaired by Lissa Widoff, a woman creative, who repairs jeans in the /Boro' style using Sashiko stitching. The jeans would compose a visual construct in which an internal process
can begin; to reflect and contemplate on the act of repairing as we respond to the torn garments, both literally and metaphorically.
Needles, thread, and fabric will be provided, ready to be taken up and allowing the mending to begin.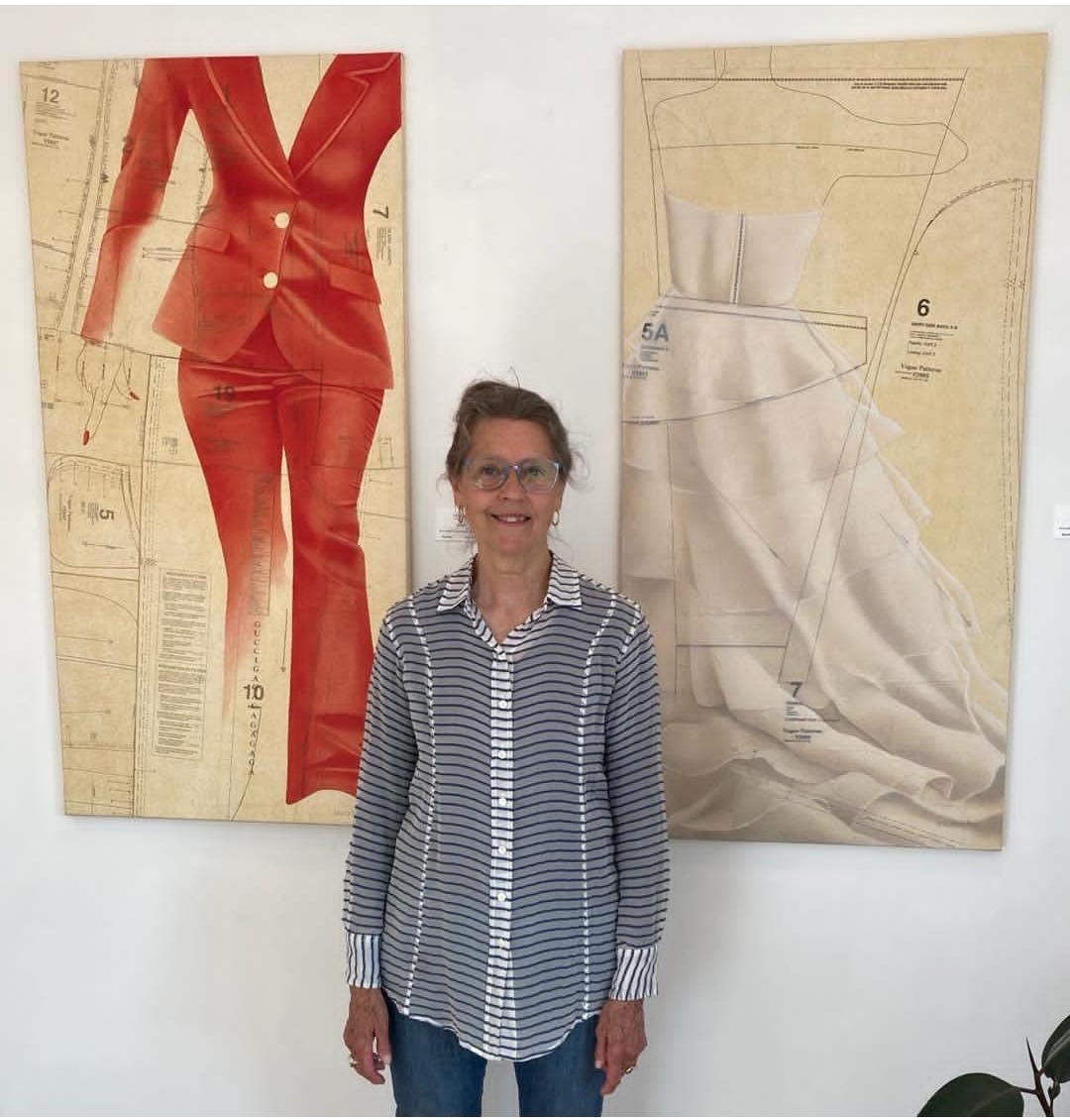 LESIA SOCHOR
For forty two years, Lesia Sochor has been a part of the artistic fiber of Waldo County ME where she has lived, created, exhibited, and taught. An interdisciplinary artist, she is primarily a painter who attended the Philadelphia College of Art earning a BFA in painting.
She has exhibited in museums, universities, and galleries throughout New England
and beyond. Most recent exhibits include University of New England Gallery, Biddeford, ME; Littlefield Gallery, Winter Harbor, ME; Cove Street Arts, Portland, ME; Garment District Alliance, NYC; and Museum of Russian Icons, Clinton, MA. Recent acquisitions have been by the Alex Katz Foundation.
Publications include Art New England, Decor Maine, Creative Maine and The Boston
Globe.
Located at 168 Lisbon Street in Lewiston, the LA Arts Gallery presents six exhibitions throughout the year that reflect and honor the Twin Cities community. Exhibiting artists generally have ties to LA or to Maine. 
With each show, LA Arts aims to bring individuals and groups together to strengthen our community through shared experiences and deeper cultural understanding.
TUESDAY – THURSDAY
9:30AM – 2:30PM
FRIDAY
10 – 6PM
& by appointment:
contact@laarts.org
If you're interested in volunteering at the Gallery or want to learn more about the space and upcoming exhibitions, please send us a message using the form below.
Inquire about the Gallery