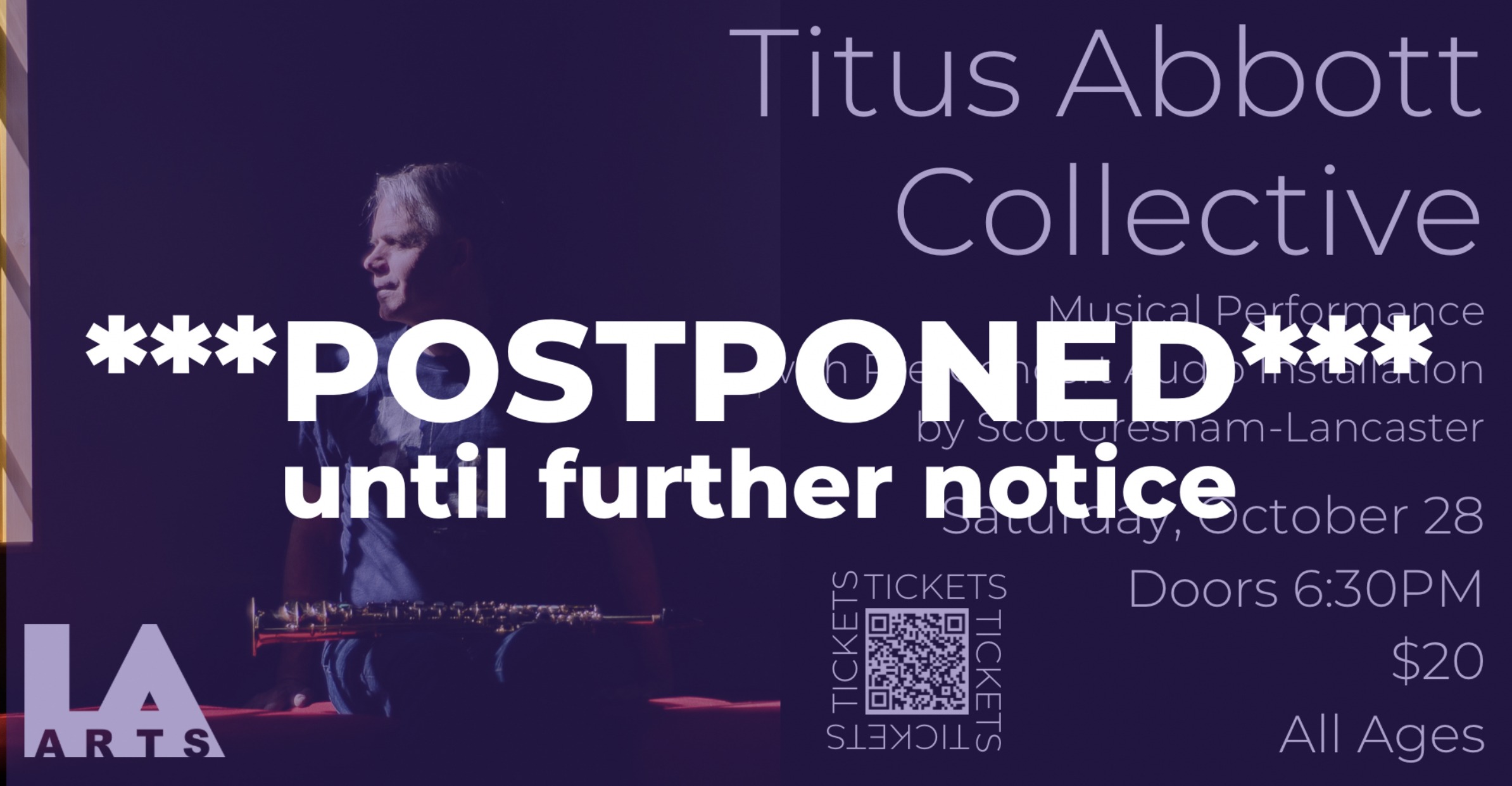 📢IMPORTANT UPDATE: Due to the current tragic situation Saturday evening's performance is canceled and we will remain closed until further notice. LA Arts and the Titus Abbott Collective are committed to holding this concert at a future date and we will make an announcement as soon as we can regarding rescheduling.
***POSTPONED***POSTPONED***POSTPONED***
LA Arts will be hosting the Titus Abbott Collective on Saturday, October 28, 2023 at 7:00pm. The group features Titus Abbott, (Soprano and Tenor Saxophones and Bass Clarinet), Rob Gerry (Bass), and Peter Herman (Guitar). As part of the acoustic experience, attendees will also enjoy a 25-minute pre-concert audio soundscape created by sonification musician and composer Scot Gresham-Lancaster. Performance tickets are $20.
The Titus Abbott Collective will present original compositions by Abbott combined with improvised pieces in the tradition of "instant composition" where members of the ensemble create fully formed pieces that have never been performed or conceived of before the evening's concert..
The soundscape piece is part the " SeaChange: Darkness and Light in the Gulf of Maine " art and natural science exhibit currently presented by Gulf of Maine EcoArts and Maine Maritime Museum. Attendees will be immersed in the rich ecosystem of Cashes Ledge in the Gulf of Maine and experience "songs" and other natural sounds of ocean life under the waves.
LA Arts Presents the
Titus Abbott Collective
Musical Performance
with Pre-Concert Audio Installation by Scot Gresham
SATURDAY   OCTOBER 28   2023
168 Lisbon Street, Lewiston, ME 04240
6:30PM DOORS
$20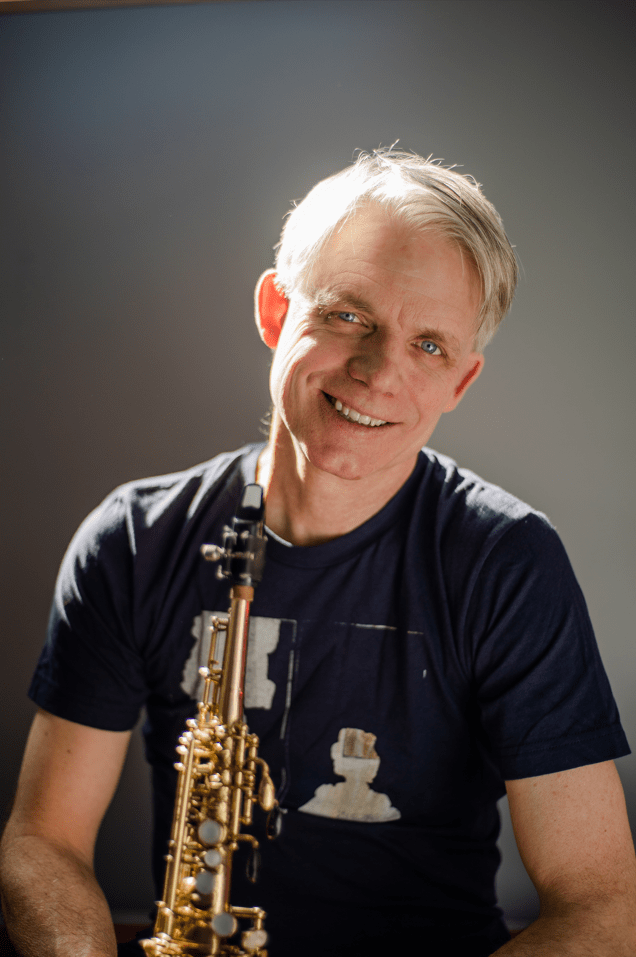 B i o g r a p h y
Titus Abbott is a US based saxophonist and composer. He is dedicated to finding contemporary expression in jazz while honoring its rich tradition. His compositions are characterized by intricate melodies, harmonies and rhythms that are an invitation to close listening. Specializing in soprano saxophone, Titus balances his repertoire as a multi-instrumentalist on alto and tenor saxophones and bass clarinet.
As an improviser and composer Titus has worked and recorded with a wide range of collaborators from his native Canada to Europe and the US. These include Graham Collier, Eddie Pévost, The Grand Union Orchestra, Ashley Maher, George Koller, Frank Carlberg, Pascal Niggenkemper, Michael Sarin, Marilyn Lerner, Curtis Clark, Nate McBride, Luther Gray, Sean Conly and many others performing at venues, concert halls and jazz festivals worldwide.
New music composition and film music composition are also part of the fabric of Titus' career which include composer credits on films by Louis Pascal Couvelaire, Thiago DaCosta, Louis Frederick and recent World Premieres of his compositions "Liminal Moment" for Two Pianos and Percussion and "The Gardener Trio" a middle eastern music influenced chamber work for piano, clarinet and violin as part of a concert to commemorate the Armenian Genocide.
Rob Gerry
Biography
Double and electric bassist Rob Gerry is an active freelancer in northern New England and is a member of NH-based minimalism/jazz group Weird Turn Pro, New Orleans-style swing band Midnight BBQ, and Portland-based wedding and function band Mixology.
As a composer his works have been performed by numerous soloists, chamber groups, and large ensembles including the UNH Wind Symphony and the seacoast's OURBIGBAND.
Rob is also an experienced arranger, music theory teacher, private instructor, and corporate training professional.
Peter Herman
Biography
Peter Herman is a Maine based musician and multi-instrumentalist specializing in electric and acoustic guitar. Peter is rooted in strong fundamental skills and tradition. These skills and traditions serve as stepping stones towards composition of new and unique music. His music stems from a deep appreciation and knowledge of the guitarist's role in many genres of music including blues, jazz, rock, and classical music.
Peter studied music at the University of Maine under the direction of Rick Nelson, Bob Thompson, and Steve Grover. He appears on many records, some of which include "Impressions" by the Aardvark Jazz Orchestra, "Big Nothing" by Lou Velasco, "Autumn" by Cilla Bonnie, as well as many others. Peter currently teaches music and freelances in the greater New England area.