LA Arts pursues its mission to engage and inspire a vibrant community through arts and culture by supporting arts and cultural partners in the region and increasing access to the arts for all LA residents.
Our work takes many forms and is always evolving.
Learn more about our work:
LA Arts is a founding member of ACLA, a collective of 19 arts and cultural organizations in Central Maine.
We partner across the community to advocate for arts access and for the local arts economy. Learn more about how we can partner with you, and let us know if you'd like to partner.
Cultural Plan LA delivers a clear, realistic, and authentic vision for the cultural and creative vitality of Lewiston Auburn.
LA Community Galleries Project
This partnership with UMVA establishes community galleries featuring local artists in organizations across Lewiston Auburn.
Art Walk LA turns the downtown into a bustling arts district on the final Friday of every summer month from May to October.
The LA Arts Gallery presents exhibitions throughout the year that reflect and honor the Twin Cities community.
LA Arts presents free or low-cost events and programs for all ages and interests. Programs include the free summer Concerts in the Parks series which debuted in 2021.
Currently Showing at the LA Arts Gallery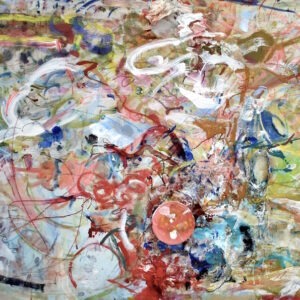 Bouchard says of her paintings, "I work in spurts on several paintings simultaneously in a journalistic manner, documenting clusters of daily life. Language, media, music, and studio detritus intertwine with memory and the present act of painting. I paint using colors without prejudice. The experience of color is one of a constant state of coming and going. I investigate the transitions between complementary colors, and view them as opportunities to change the habit of language knowing one color can't exist without the other. "
...
No event found!