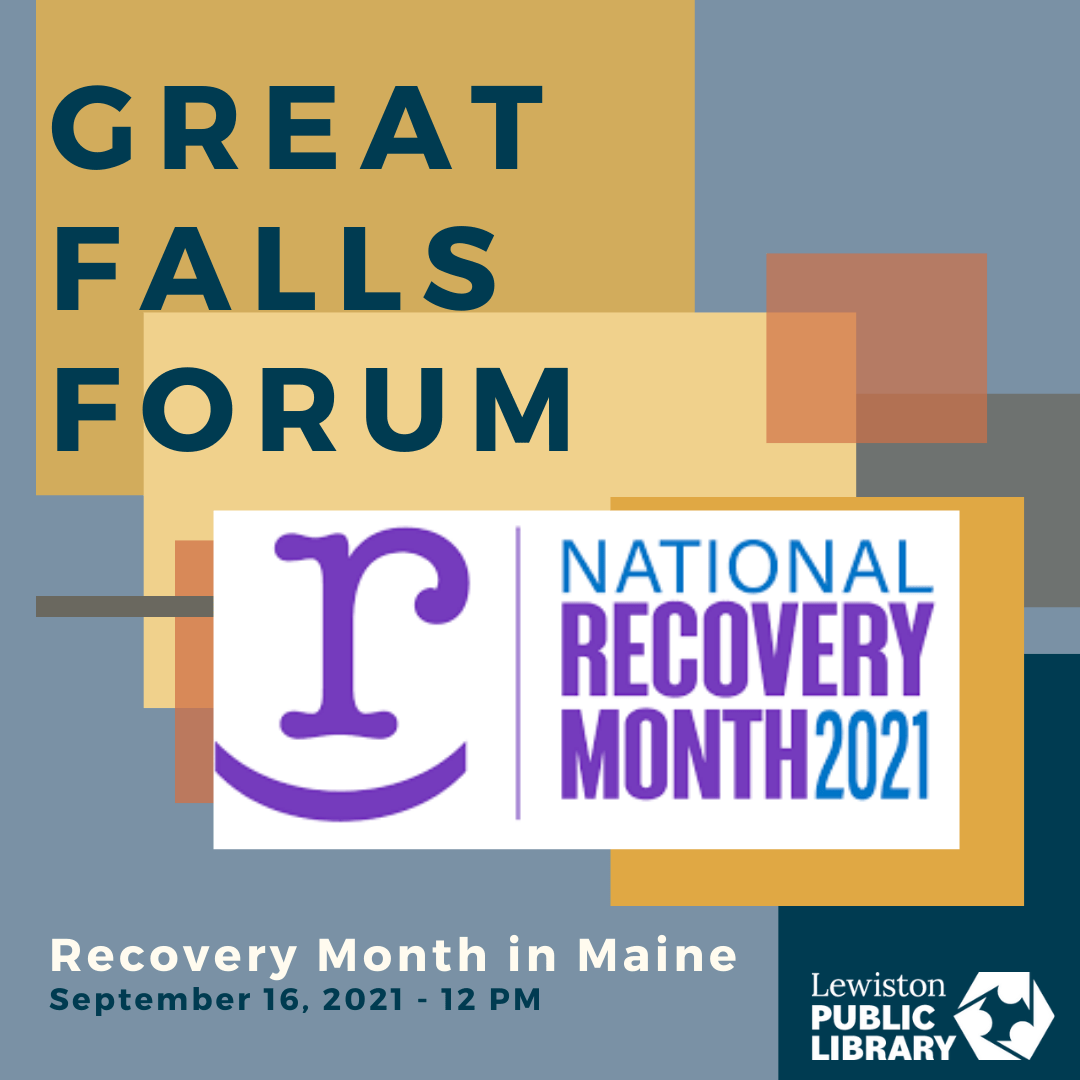 Great Falls Forum: Recovery Month in Maine
The 2021-2022 season of the Great Falls Forum kicks off on Thursday, September 16th, with a panel discussion entitled "Recovery Month in Maine Calls for Greater Understanding, Empathy, and Action," featuring Doug Dunbar, Recovery and Re-entry Workforce Specialist, Eastern Maine Development Corporation; Stephanie Gelinas, Executive Director of Sandcastle Clinical & Educational Services and Lewiston City Councilor (Ward 7); Jeremy Hiltz, Founder of Recovery Connections of Maine; and Gordon Smith, Esq., Director of Opioid Response, State of Maine. This free, public program will take place from 12 noon to 1 PM virtually via Zoom and streamed to the Lewiston Public Library Facebook page.
September is National Recovery Month. The annual observance sends a hopeful message about the promise and possibilities of a healthy, rewarding life in recovery. This year's theme, "Recovery is For Everyone: Every Person, Every Family, Every Community," reminds people in recovery and those who support them that no one is alone on the recovery journey.
At the same time, substance use disorders and mental health problems have worsened in Maine and nationally due to COVID-19. An alarming increase in overdoses and significantly greater alcohol consumption are signs of distress brought on by the global pandemic. These serious challenges require greater understanding, empathy and action on the part of more Mainers.
This Great Falls Forum panel will feature state and local experts working on the frontlines to bring hope and new beginnings to more of our neighbors. Join the conversation with Maine's Director of Opioid Response, the founder of Recovery Connections of Maine, a leader with Lewiston Area Public Health Committee, and Maine's former Deputy Secretary of State who's own battle with SUD ended a 30 year career in government, sent him to jail, and led him to a new profession as a Recovery and Re-entry Workforce Specialist.
---
The Great Falls Forum is a monthly, brown-bag speaker series featuring statewide and regional leaders in public policy, business, academia and the arts. Admission is free to all Forum events. The Forum is a co-sponsorship of the Sun Journal, Bates College, and LPL. Recordings of the virtual Great Falls Forum programs will be archived on the Library's YouTube channel following the live event.
For more information, please contact the Lewiston Public Library at 513-3135 or LPLReference@lewistonmaine.gov.