Fall Slow Flow Yoga at APL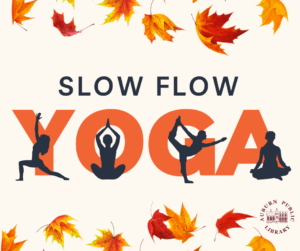 Take some time to slow down and dive deeper into the poses, while gaining strength, flexibility, and core balance.  Use the power of your breath to slowly move through your practice with intention and introspection in this vinyasa-style class.  This is a moderately challenging class where pose variations will be offered to help everyone find their unique level of success.  Have a yoga mat, a yoga block or two, and wear comfortable clothes that will allow you to move well.  Take some time for yourself to move and breathe with grace, poise, and ease.
This program will be led by instructor Tisha Bremner of Inner Light Wellness.  Learn more about Tisha at https://innerlightwell.com/.
This class will meet weekly, every Tuesday, September 12 through November 14, and registrants will have the option of taking part virtually, via Zoom, or in person.  To register (required), email dwallace@auburnpubliclibrary.org or call the Reference Desk at 207-333-6640, ext. 4.  When registering, please indicate whether you plan to attend in person or virtually.