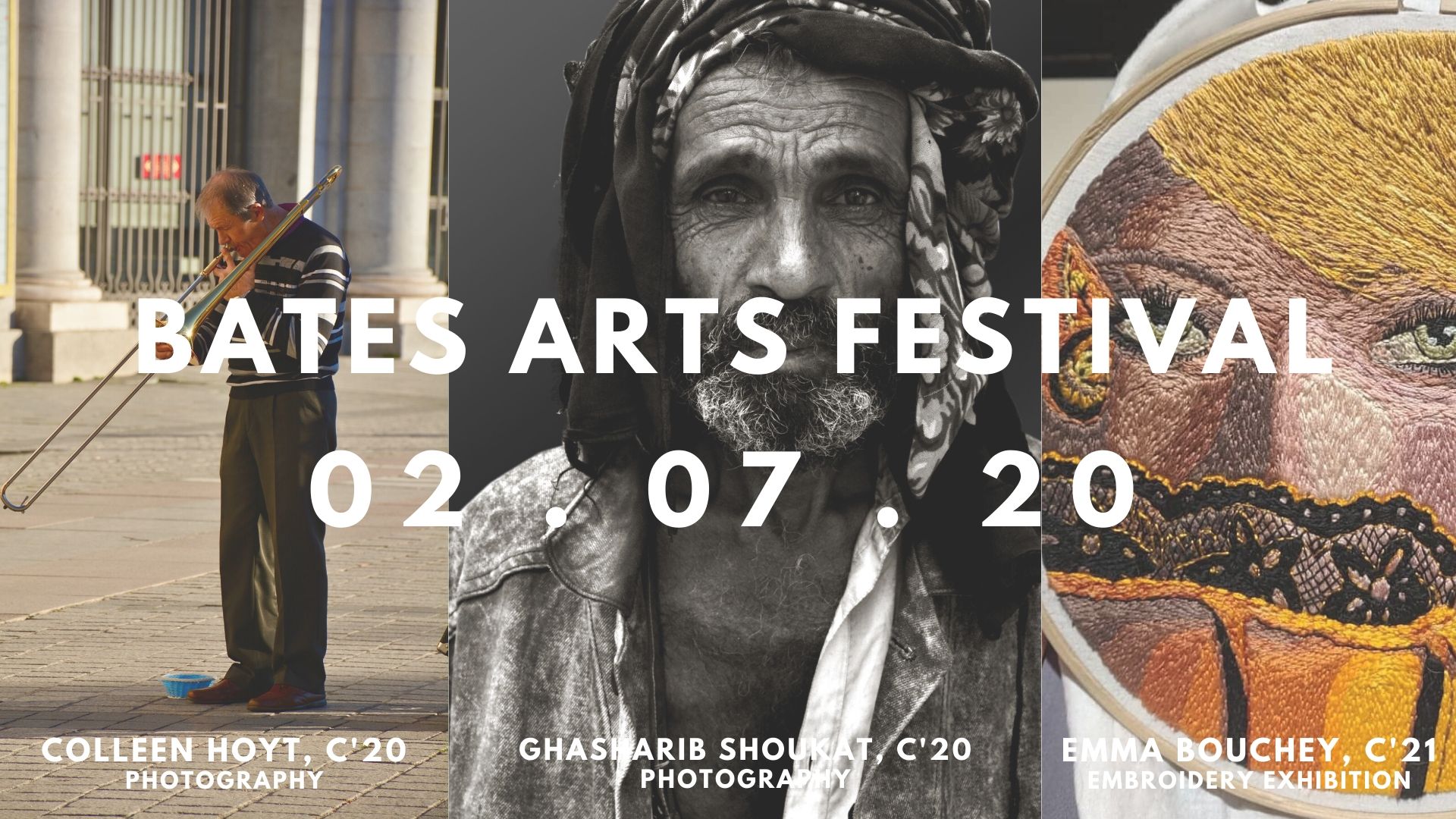 The Bates Arts Festival is a celebration of student led, student created, and student performed art that will occur on Friday, February 7, 2020 from 5 to 8 PM. The night will be a family friendly event in which children are encouraged to attend! There will be events occurring throughout the Olin Arts Center (75 Russell Street Lewiston, ME) and the Museum of Art will be open until 8 PM this night. The event will kick off promptly at 5 PM with a performance from the Robinson Players in the Concert Hall,  a workshop on how to juggle by the Circus Club in Olin 128, a session on alternative applications of art in Olin 250, and a webseries trailer of "Cedric Clarke & the Unsettling Dark" in Olin 104, Senior AVC Art Thesis Open Studios throughout the first and second floors, and various role playing games lead by the Discordians. Please reserve your FREE ticket through EventBrite at 
https://www.eventbrite.com/e/bates-arts-festival-tickets-90892278251
. If you have any questions, please email us at 
winterartsfestival@bates.edu
.
For a more complete schedule, organized by room please see below.
Olin Concert Hall Events:
5:00 Robinson Players
5:20 Crosstones
6:00 2B.E.A.T.S.
6:07-6:15 Intermission
6:15 Orchestra Quintet
6:25 Jazz Duo
Featuring Peter Phibin '22 and Thomas Costin '22
6:40 Dance Performance
Featuring Leyouyou Tang '22
6:45 TakeNote
Olin 136:
6-7: Studio Pottery Tutorial and Discussion
Students will do wheel demonstrations and talk about their own experience will pottery and throwing.
250 Seminar Events:
5-5:30: Applications of Art through Digital Illustration, Architecture and Literature
Featuring works by Nick Charde '22, Lucy Sherman '23 and Ben Connors '22
6-6:30: Q & A with Featured Photographers*
*Their work is hanging in Olin
Featuring David Chen '23, Josh Turner '20, Colleen Hoyt '20, Michael Morgan '22, LuisDa Molina '20, Jack Cantor '23, Ghasharib Shoukat '20, and Nick Charde '22
6:30-7: Student Art Exhibitions: Embroidery, Ceramics, Printmaking
Featuring works by Emma Bouchey '21, Michael Morgan '22, Helen Pandey '22, Stella Santucci '22
7-7:30: Q & A with the Bates Film Festival 
Featuring Perla Figuereo '22 and Clementine Callaway '20
128 Classroom
5-6:30: How To Juggle: Workshop by Circus Club, Led by Circus Club President Ben Hoffinger '22
Drop by for any amount of time! Learn and practice the basics of juggling, no prior experience needed!
6:30-7: Poetry Off the Page: Workshop, Led by Khadeeja Qureshi '23
Led by Khadeeja Quereshi '23
7-7:30: Literary Arts: Workshop, Led by Abigail Kany '21 and Anna Maheu '21*
*Includes distribution of Snaggletooth literary magazines
104 Classroom
5-5:30: Video Loop of "Cedric Clarke & the Unsettling Dark" Webseries Trailer and "By Your Blood, Country Flows" Video
Featuring works by Craig Selbrede '22, Alex Teplitz '21, Olivia Dimond '22, and LuisDaMolina '20
5:30-6:30: Student Videography: Selections from Josh Turner
Featuring Josh Turner '20
6:30-7:00: Snaggletooth Poetry Readings
Featuring works by Alex Teplitz '21, Anna Helms '20, Anna Maheu '21, Cyan Hunte '22, Christina Wang '22, Eden Rickolt '20
7:00-7:30: Poetry and Short Fiction Readings
Featuring works by Khadeeja Qureshi '23, Anna Mangum '21, and Abigail Kany '21
7:30-8:00: Video Clips from Sankofa 2020 and Sanghai Asia 2019