For Immediate Release
August 15, 2017
It will be a busy weekend in LA, filled with fun and excitement, beginning with Art Walk. We're proud to support Lewiston High School's 21st Century Program, presenting work at three locations.
LHS 21st Century Leaders will be showcasing their work from the Summer 2017 internship program. Celebrate "Leading through Art" students as they unveil their community unity mural on the side of the Poise Yoga Studio building at the corner of Lisbon & Cedar Streets as well as student readings titled "Say Her Name!" of original stories and poems about notable women of color. At Lewiston Public Library's Callahan Hall Art Walkers can view a documentary film entitled "The Unheard Voices of Lewiston" created by students through the "Design your Own" internship.
In Auburn's Festival Plaza there will be an impressive "trifecta" of events to kick off the Great Falls Balloon Festival weekend. The Red Table Picnic, sponsored by Auburn Recreation, encourages the community to celebrate their proud "Red Eddies" history by holding a red-themed picnic from 5:30 – 8:00 p.m. Also in Festival Plaza, the Great Falls Balloon Festival will be presenting two bands: 6:00 – 7:15pm Polarized Acoustic Duo  and 7:30 –  9:00pm Rubber Band.
At One Great Falls Plaza in Auburn (corner of Court & Turner) enjoy Family Friendly Programming: Nancy Beaule reading from her latest children's book and the shared art-making event, "Community Masterpiece". Also a Pop Up Photo Op "Be a Masterpiece".
In Lewiston, the Downtown Lewiston Arts District is hosting their annual Selfie Contest. Three businesses (Poise Yoga and Foot Sanctuary 351 Lisbon St; The Studio 291 Lisbon St; Wicked Illustrations 140 Canal St) will participate. Visit each location, enjoy the art and lite refreshments, take a selfie inside the business, post it to their Facebook page and you will be entered to win a painting from Wicked Illustrations and Yoga from Poise! At Dufresne Plaza steel drum orchestra Tinpanic will be playing at 7:00pm.
Parking is free after 6pm with ample garage space on both sides of the river.
Photo attached: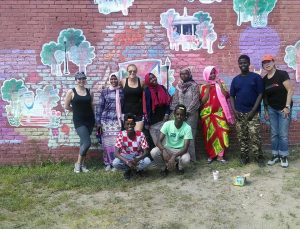 Some of the 21st Century "Leading through Art" mural team with L/A Arts staff taking a break from installation work.
Download the full August listings here!