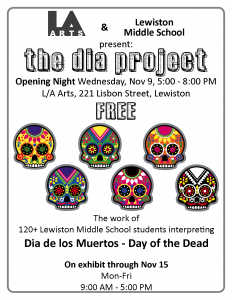 Come celebrate Dia de los Muertos with us and the Spanish language students of Lewiston Middle School! This year's Day of the Dead teaching artist residency has wrapped up, and the student found-object shrines to lost loved ones are on display at L/A Arts (221 Lisbon Street, Lewiston). Join us Wednesday, November 9 from 5:00-8:00 PM for the free opening reception. Includes refreshments!
The student artwork will be on display at L/A Arts until Nov 15 during regular business hours (M-F 9:00-5:00).
A huge thank you to all participating students. A special thank you goes to LMS Spanish teacher Jennifer Goodine and teaching artist Natasha Mayers for their hard work in making this residency possible for the sixth year in a row.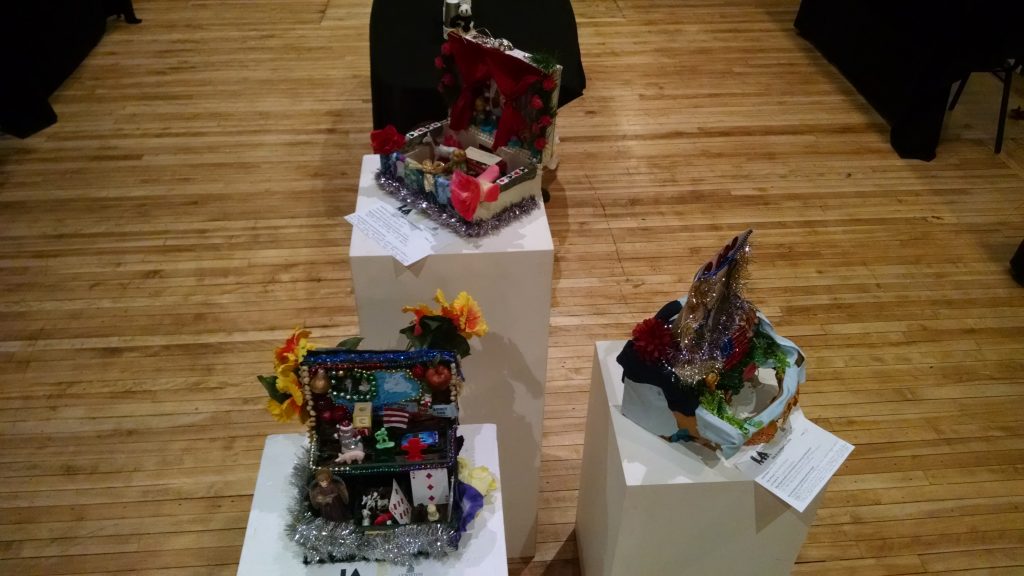 More Info on the Dia Project
Since 2010, over the month of October, the Spanish language students of Lewiston Middle School are given an arts-infused experience of the Mexican holiday, Dia de los Muertos (Day of the Dead). The holiday is devoted to remembering and honoring lost loved ones and often includes the making and lighting of shrines.
LMS Spanish teacher Jennifer Goodine and visual arts teaching artist Natasha Mayers collaborate to present students with an overview of the holiday and a found object shrine-making project. The subject of students' work can be about loss, memories, celebration, or honoring lost loved ones; about place, tradition, or custom. At the heart of their work, each student is telling a story.
Students are encouraged to bring objects from home, including photographs, maps, flags, stamps, souvenirs / images / crafts from country of origin, figurines and miniatures, religious objects, holiday objects. Students use related background elements for inside and outside of the shrines to further tell their story, such as maps, photos, sheet music, recipes, postcards, cloth, handmade items, handwriting samples, comic books, etc. Additionally, teachers provide a wide range of other materials like foils, tissue paper, feathers, beads, buttons, dice, colored glass, flowers, playing cards, jewelry, thread / yarn, bows, lace, glitter, glue, flags, national geographic photos, sports paraphernalia, etc.
Using this vast array of found objects, each student is able to create a unique tribute to their personal experience of loss — someone dear to them who is gone.
Viewing the shrines and reading the additional written context provided by many of the student artists gives an opportunity to contemplate your own lost loved ones.