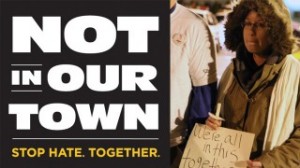 The Lewiston group Welcoming Maine, is continuing in their effort to spread goodwill, create understanding, and promote social integration with an additional screening of the powerful documentary film "Not in our Town: Light in the Darkness." The screening of "Not in our Town: Light in the Darkness," will occur on May 8 at 7pm. It will be shown in the DownStage at L/A Arts located at 5 Canal St. Alley, Lewiston. Admission to this event is free; seating is limited, reservations encouraged.
"Not in Our Town: Light in the Darkness" is a documentary about a town coming together to take action after anti-immigrant violence devastates the community. The documentary, which debuted in September 2011, tells the story of Patchogue, N.Y., and the community's response to an influx of Ecuadorian immigrants.
"In 2008, a series of attacks against Latino residents of Patchogue, New York, culminate in the murder of Marcelo Lucero, an Ecuadorian immigrant who had lived in the Long Island village for 13 years. Over a two-year period, the story follows Patchogue Mayor Paul Pontieri, the victim's brother, Joselo Lucero, and everyday Patchogue residents as they address the underlying causes of the violence, heal divisions, and begin taking steps to ensure everyone in their village will be safe and respected".
For more information and to view a trailer of the film, please visit www.niot.org.
About Welcoming Maine

Welcoming Maine is a 12 member community group that works to improve social integration between new and native Mainers. They are being assisted by six Bates College students, all taking a class on Privilege, Power and Inequality taught by Professor Emily Kane.