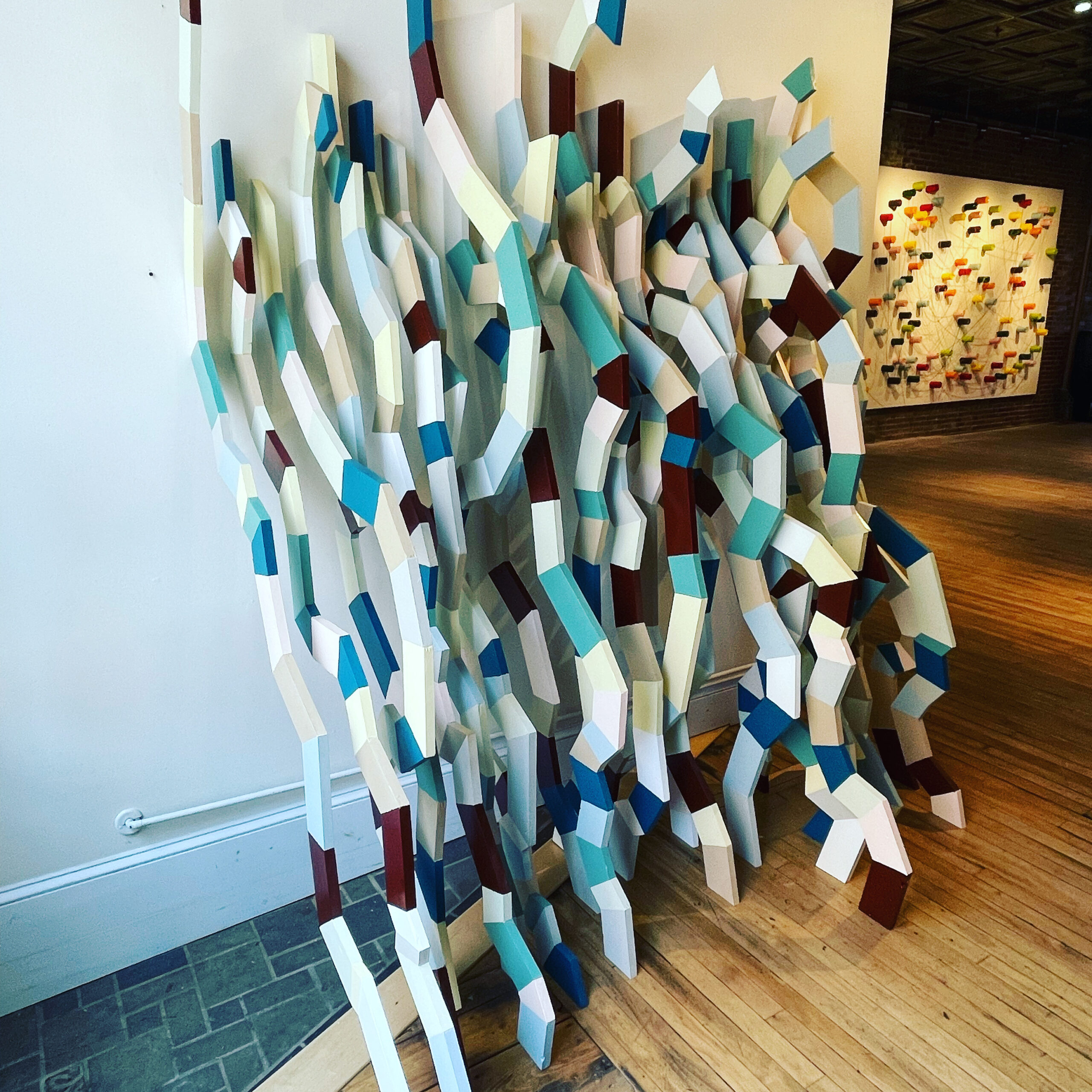 Tom Jessen: Play at the LA Arts Gallery
Lewiston, Maine, August 12, 2022 – LA Arts presents an exhibition of three dimensional and interactive works by artist Tom Jessen. Tom Jessen: Play will be on view at the L/A Arts Gallery from August 25 through October 18, 2021. An exhibition opening and reception will be held during Artwalk LA on Friday, August 27 from 6-8pm. 
Jessen, a multimedia artist, says of his recent work, "I've been noticing the objects around me more, especially the things that are normally considered "throwaway." Many of these objects— milk jugs, tin cans, fabric scraps— I've had in my hands a million times without really paying attention to them. I started putting paint on them, bringing out certain edges or patterns within their form. I found that in doing so it transformed their normal identity. I enjoy this alchemical process, much of it dependent on recognizing these mundane objects out of context. There's a healthy dose of whimsy and irreverence behind this gesture. "Making" is rooted in the act of play for me." 
Jessen sees parallels between the systematic approach one uses in making art works and the rules one follows while playing games. "This observation has motivated me to employ chance operations in determining the final form of each work, often through the act of playing a game. Some pieces are designed to allow others to take the lead in constructing the forms by playing the game. By allowing others to construct the work my hope is to demystify the art-making process, removing the perception of art as an activity solely for those who possess "talent." These works can be dismantled and reassembled continuously. Using chance operations ensures the work remains fluid, allowing each form to always be different. This process also allows me to minimize my own agency, stay present, and keep the experience mysterious."
Tom Jessen holds a BFA from the University of Iowa and an MFA from Vermont College of Fine Art. His work is in university and private collections, and has been shown nationally, most recently in the Center for Maine Contemporary Art's 2020 Biennial. Jessen has been awarded residencies at Haystack Mountain School of Craft and the Vermont Studio Center. He lives in Temple, Maine and teaches art at the University of Maine Farmington.
The L/A Arts Gallery is open Wednesday through Sunday, 12-6 pm. This exhibition is free and the community is invited to attend. L/A Arts follows US CDC Covid-19 response guidance and face covering recommendations for Maine. We currently request that all visitors wear face coverings while in the gallery.