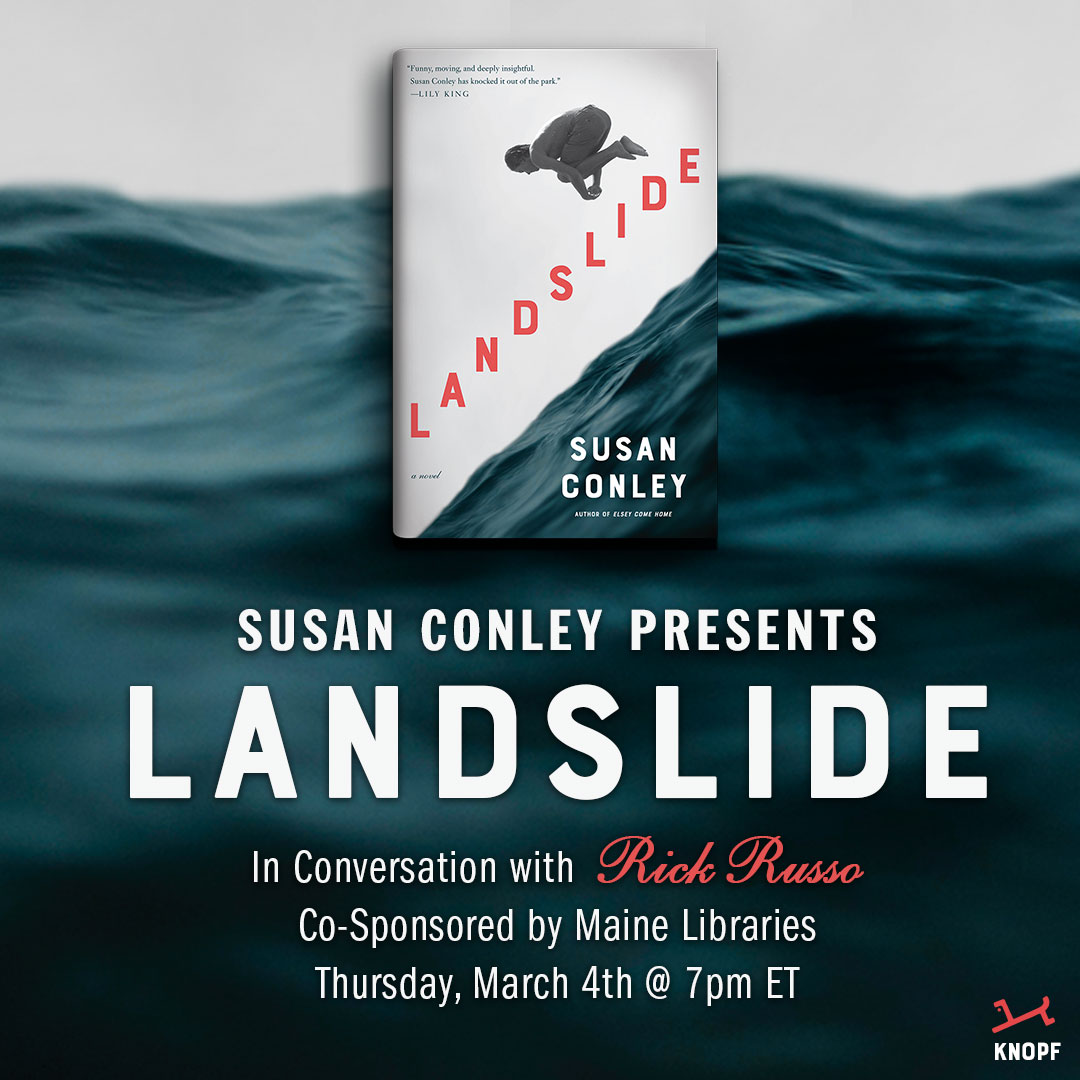 Susan Conley Presents LANDSLIDE in Conversation with Richard Russo
Join LPL and libraries across Maine on Thursday, March 4th at 7 PM, as we celebrate local author Susan Conley's new novel LANDSLIDE! Register here: https://bit.ly/3ozkO1o.
ABOUT LANDSLIDE
After a fishing accident leaves her husband hospitalized across the border in Canada, Jill is left to look after her teenage boys—"the wolves"—alone. Nothing comes easy in their remote corner of Maine: money is tight; her son Sam is getting into more trouble by the day; her eldest, Charlie, is preoccupied with a new girlfriend; and Jill begins to suspect her marriage isn't as stable as she once believed. As one disaster gives way to the next, she begins to think that it's not enough to be a caring wife and mother anymore–not enough to show up when needed, to nudge her boys in the right direction, to believe everything will be okay. But how to protect this life she loves, this household, this family?
With remarkable poise and startling beauty, Landslide ushers us into a modern household where, for a family at odds, Instagram posts, sex-positivity talks, and old fishing tales mingle to become a kind of love language. It is a beautiful portrait of a family, as compelling as it is moving, and raises the question of how to remain devoted when the eye of the storm closes in.
"I loved Landslide. You are right there with them in a fishing village in Maine, feeling the wind, the sea, the danger. Smart, honest, and funny, this is a story you won't forget." —Judy Blume
"Susan Conley has knocked it out of the park with Landslide. It is a spectacular tale of hardship and healing told in Conley's gorgeous, luminous prose. Funny, moving, and deeply insightful, the novel takes such a fresh look at marriage, motherhood, and the wondrous inner lives of teenagers. A truly beautiful and unforgettable love story of a family on the brink." —Lily King, author of Writers & Lovers
---
This event would not be possible without the support of Penguin Random House Library Marketing and libraries across the state of Maine: Maine Library Association, Portland Public Library, Patten Free Library, South Berwick Public Library, D.A. Hurd Library, Lithgow Public Library, Witherle Memorial Library, Pittsfield Public Library, Readfield Community Library, Peabody Memorial Library, Thompson Free Library, Rockland Public Library, Windham Public Library, Auburn Public Library, Friend Memorial Public Library, Boothbay Harbor Memorial Library, Casco Public Library, Topsham Public Library, Hubbard Free Library, York Public Library, Rockland Public Library, Lewiston Public Library, Jesup Memorial Library, Curtis Memorial Library, Thomas Memorial Library, Bonney Memorial Library, and Falmouth Memorial Library.