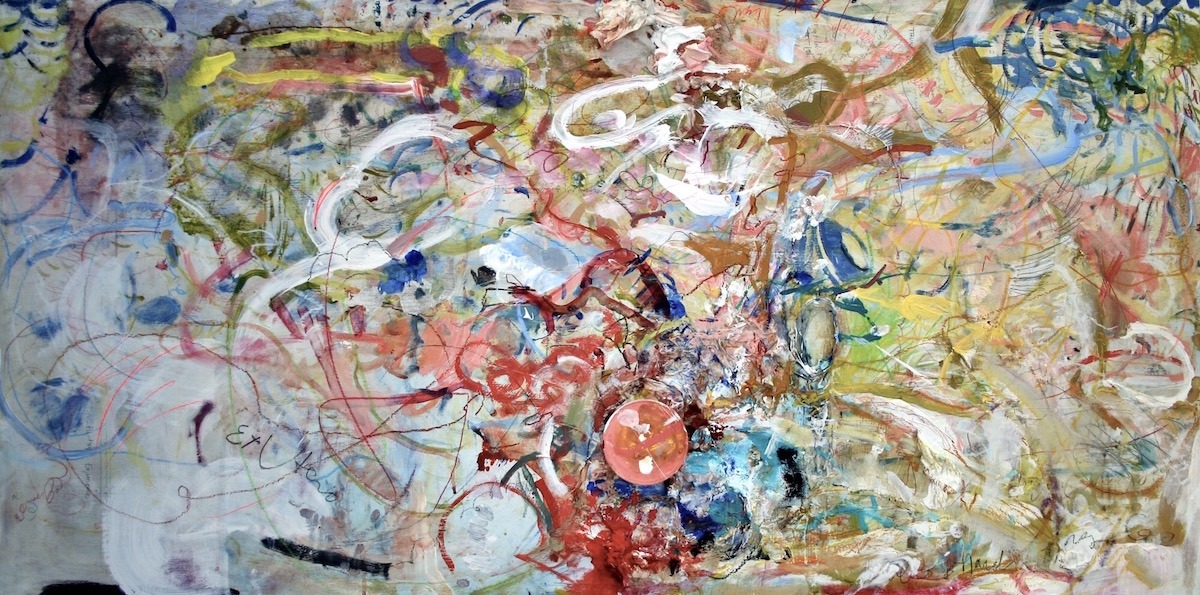 Renée Bouchard: Allegory of Prudence
For Immediate Release: Contact LA Arts at contact@laarts.org
Renée Bouchard: Allegory of Prudence
LA Arts Gallery, 221 Lisbon Street, Lewiston, Maine
Gallery Hours: Wednesday – Friday 10-4, Saturday 10-12, and by appointment: contact@laarts.org
Lewiston, Maine, October 27, 2021 – The LA Arts gallery will exhibit paintings by Renée Bouchard from November 5 through January 14, 2022. The exhibition title Allegory of Prudence, is a reference to the painting of the same name by the Venetian Renaissance painter, Titian, in which the Latin inscription ex praete/rito / praesens prvden/ter agit / ni fvtvrv/actione de/tvrpet, written above the figures in the painting, can be translated as, "from the past  / the present acts prudently / lest it spoil future action."
Bouchard says of her paintings:
I work in spurts on several paintings simultaneously in a journalistic manner, documenting clusters of daily life. Language, media, music, and studio detritus intertwine with memory and the present act of painting. I paint using colors without prejudice. The experience of color is one of a constant state of coming and going. I investigate the transitions between complementary colors, and view them as opportunities to change the habit of language knowing one color can't exist without the other. 
As a single mother who received her MFA during the pandemic while homeschooling her young child,  a renewed focus to a public discourse about the relationship and responsibilities of caregiving made it more relevant than ever. I am constantly exploring human security and aim towards a gesture of repair.  Since my son was in the womb, I began intersecting mothering with my home studio practice. In the studio, I am envisioning the possibilities of a common world.
I find it interesting that painting is considered a "high art." I am constantly playing with this idea by allowing non-traditional materials like natural and human made objects into my paintings. Aiming to transcend the materials, I walk over them to flatten them, staple and glue them on the surface. During  a collaborative series, I invited other women in my community in a tracing project out in my backyard. We took turns tracing each other on large sheets of Arches paper while laying in resting poses. Their participation served as an act of resistance, and a symbol of becoming. For me, the images once hung on a wall became a representation of a life-force growing from the ground up. I see collaboration as a means to interrupt my own gaze on the work and widen my visual vocabulary. On many occasions, my young child has participated in the paintings.
Born in 1976 to French Canadian parents, Renée has lived throughout New England most of her life. She studied at the Cleveland Institute of Art, and graduated from the Maine College of Art in 1999. She received her MFA in visual art from the Vermont College of Fine Arts in 2021 when she was nominated for fellowships from the Dedalus Foundation and the College Art Association. Renée has received grants, awards, and residencies from institutions including the Maine College of Art, the Vermont Arts Council, the Robert Rauschenberg Foundation, the Cooper Union, the Kate Millett Art Colony for women, and the Vermont Studio Center.
Since 1973, LA Arts, the arts agency for the cities of Lewiston and Auburn Maine, has pursued a mission to engage and inspire a vibrant community through arts and culture. The agency works with governments, businesses, schools and local arts and cultural organizations to create opportunities for community members across the generations to experience, learn, and participate in the arts. LA Arts organizes arts programs and initiatives, supports the work of local artists and arts organizations, and highlights the essential role the arts play in shaping an economically vital, socially integrated, and forward-looking future for its community. Learn more at www.laarts.org.
Pictured: Renée Bouchard Ex Utero (collaboration with my one year old) 2013 Watercolor, acrylic, wax crayon, graphite, and studio detritus on panel 30 x 60 inches