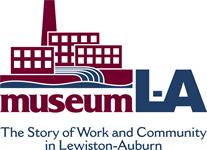 Our Working Waterway: a brief history of life and industry along the Androscoggin River
This exhibit dives into the history of the Androscoggin River and its effects on the industrial development of many cities throughout Maine. From the generation of water power to the passage of the Clean Water Act, visitors will learn about how people have used this important waterway to develop manufacturing centers, polluted the river's waters, and worked hard to clean and maintain the river throughout history.
Museum LA is now open to visitors Thursday, Friday, and Saturday, 10 am to 3 pm. Please check the Museum LA website for NEW VISITOR PROTOCOLS.