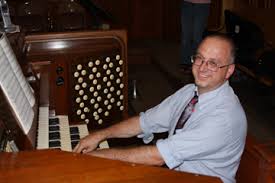 Oasis of Music presents Basilica organist Scott Vaillancourt
Basilica organist, Scott Vaillancourt, will present a short program of Bach, Vierne, Mulet and Boellmann on the chapel organ of the basilica of Saints Peter and Paul this Wednesday at 12:30 as part of the Oasis of Music series that is being held every Wednesday this Fall at the basilica. Mr. Vaillancourt is the music director at the Basilica of Saints Peter and Paul where he directs and oversees an active music program. He has taught for the University Maine system and Bowdoin College; was director of the band and chorus at the University of New England; and is the principle tubist and organist for the Norumbega Ensemble. A native of Van Buren, Maine, Mr. Vaillancourt graduated from Bowdoin College in 1992 and received both a Masters in Music Composition and a Masters in Performance from the University of Michigan in 1994. Mr. Vaillancourt is currently active as a freelance performer, composer, arranger, and teacher in the central and southern Maine areas. Some of the many ensembles he has performed with include: the Portland Symphony, the Portland Opera Repertory Theater Orchestra, the Atlantic Chamber Symphony, the Bangor Symphony, the Colby Symphony, and the Portland Brass Quintet. He lives in Lewiston with his wife and three children.
Admission to the Oasis of Music is always free, with donations accepted.  For more information, call 344-3106.
Upcoming performers:
10/28  Jim Gallant, singer-songwriter, finger-style guitar.
11/4   Rebecca Grube, Irish fiddle music
11/11  Owen Kennedy, Scottish fiddle music
11/18  Mary Hunter, violin, James Prakilas, piano, classical music
11/25  Tom Rota, Irish music on the uilleann pipes