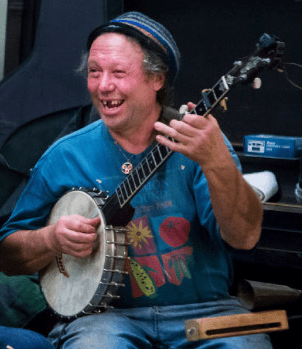 Oasis of Music at the Basilica Presents John Gawler, Banjo and Guitar
John Gawler will perform at the Oasis of Music, held in the downstairs chapel of the Basilica of Saints Peter and Paul, Wednesday April 21, from 12:30 to 1. 
Gawler is well-known to Maine audiences as an elder of the Gawler Family, singers and players of traditional and contemporary music, who perform internationally and have recorded several cds.  He loves nothing better than to sing and lead an audience in a good song, but will have to restrain himself due to our pandemic situation.  Nevertheless, Gawler comes armed with banjo and guitar and a vast repertoire of dance and song tunes and airs.  His guitar influences include Merle Travis, Mississippi John Hurt, the Reverend Gary Davis and Leo Kottke.  His banjo style is primarily the frailing technique of the Southern Appalachians, with forays into a more classical and melodic approach when playing Celtic music.
Admission to the Oasis of Music is free, with donations accepted.   Covid restrictions of mask-wearing, social distancing are observed, with a maximum number of attendees set at 35.  For more information call 344-3106.