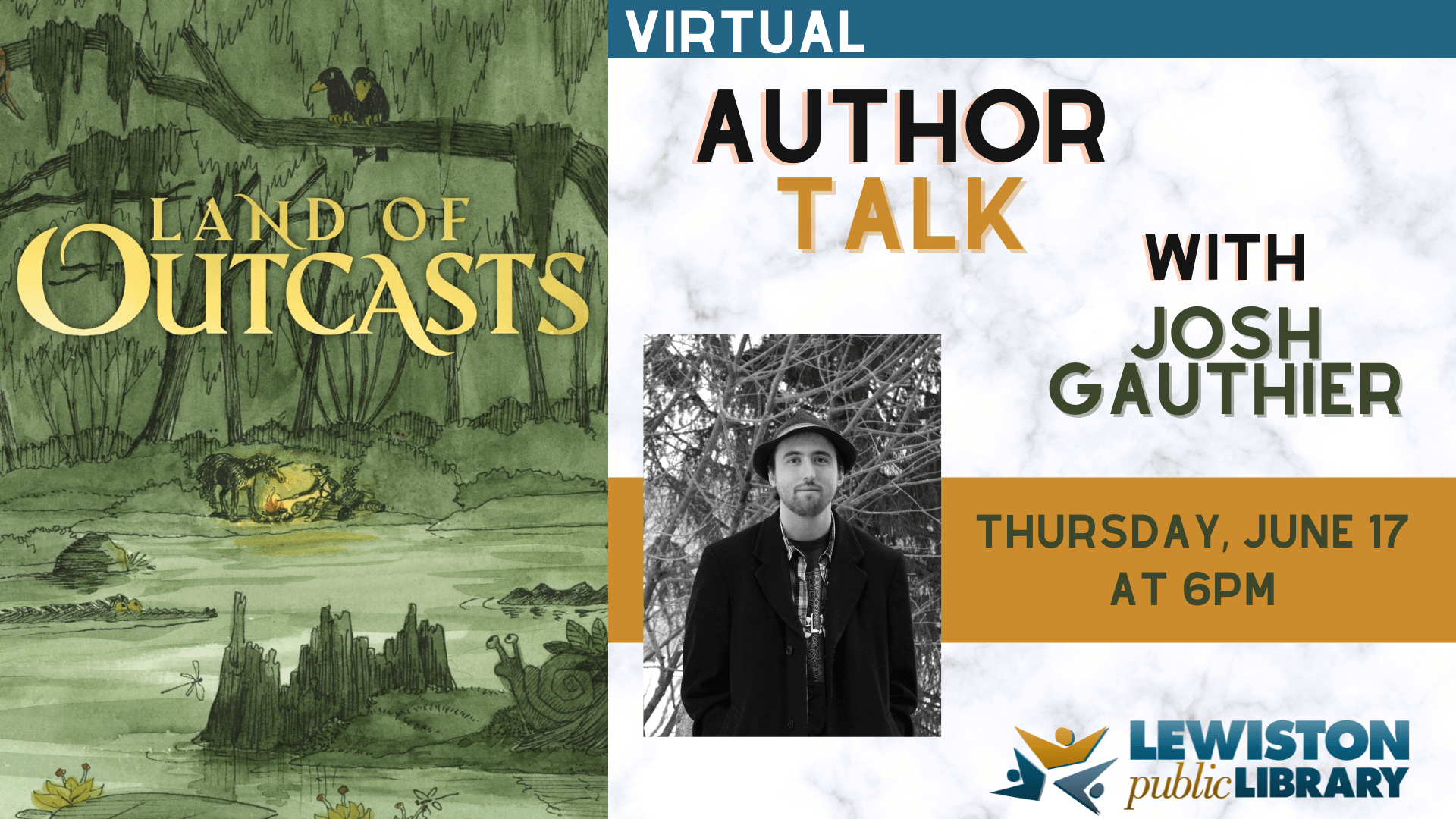 Author Talk with Josh Gauthier
Maine author Josh Gauthier will be speaking about his new book, Land of Outcasts, at an event hosted by the Lewiston Public Library on Thursday, June 17th.  This free, public program will take place from 6 – 7 PM virtually via Zoom. Register here!
Land of Outcasts is a fantasy novel about Eli, who always has a plan of dubious nature, and his battle-unicorn partner, Sasha, who always wants to settle matters with her hooves.
Hiding from bounty hunters after a job gone wrong, the duo hope to be forgotten in the expansive swampland known as The Green. So when a woman named Marion offers them a job, it seems like the perfect payday to tide them over.
However, surrounded by a web of secrets and with a dangerous enemy following behind, Eli and Sasha quickly discover that bandits and monsters are the least of their worries. Even if they survive The Green, completing their job and finding a way to go home will be no easy task.
Josh Gauthier is a Maine-based fiction writer, playwright, and librarian. A graduate of the Stonecoast Creative Writing program, he works across genres with a focus on fantasy, horror, and romance. His short work has previously been published in places such as The NoSleep Podcast and The Stonecoast Review. In 2019, his play Of Murder and Madness debuted at The Footlights Theatre in Falmouth, ME. Land of Outcasts is his debut novel.
Additionally, Josh co-hosts regular writing livestream conversations featuring a range of special guests, and is the co-founder of the Local Writers Read literary series, based in Lewiston, ME. Find more at www.joshgauthierwriter.com
---
For more information, contact the LPL Adult & Teen Services desk at 513-3135 or lplreference@lewistonmaine.gov.