Here are two updates from our Arts in Education programs:
LA Arts' Maine Writes students from Edward Little High School take top two prizes in poetry slam competition in New York City

Shown above are Edward Little High School students and teachers posing on stage after their victorious outing.
LA Arts is thrilled to announce that two Edward Little High School students, Ahmed Mohamed and Khadro Adow, took first and second place, respectively, in the 2016 Maine Writes poetry slam competition in the Bronx, New York. Mohamed and Adow, along with three of their fellow classmates, prepared for this event with classroom teacher Jill Hyland and teaching artist Joshua Vink during a year-long class at ELHS. In New York, the students competed against other high school students from schools in Brooklyn and the Bronx. A morning first-round competition took place, from which three finalists were chosen to perform in front of a packed audience of 500 people in the Lovinger Theater at Lehman College.
Of his final performance, Mohamed recalled, "I heard the cheering. It felt euphoric. It was amazing! People like me get to tell the world our stories." Adow said, "With poetry, you are able to put how you feel into words and share it with others. It gives you confidence in who you are and where you come from." Hyland described the experience as "a once in a lifetime opportunity to share and change the lives of people prepared to listen!"
LA Arts is pleased to have worked with two outstanding partners from New York City on this project, arts in education and technology organizations the Dreamyard Project and Global Writes. The Dreamyard Project is a nonprofit arts in education organization located in the Bronx, NYC, which since 1994 has served over 125,000 students in 100 public schools with the power of arts in education.  Global Writes' mission is to promote literacy, communication and collaboration among young people through the integration of performing arts and technology resources.
Weaving with Sarah Haskell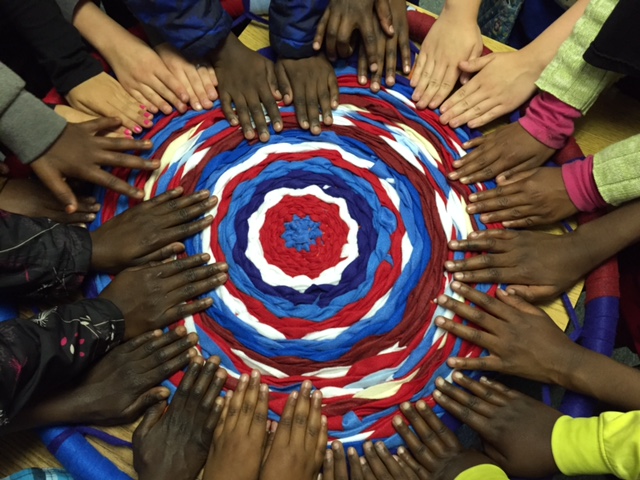 Students from Longley Elementary place their hands around the beautiful woven mandala they made with teaching artist Sarah Haskell. 
Martel and Longley Elementary Schools completed their weaving workshop, which took place during May with teaching artist Sarah Haskell. Students developed their fine motor skills, visual arts techniques, and self-expression while creating a woven mandala. The mandala they worked on represents the colors and identities of the students and their school.
Acknowledgements
LA Arts would like to thank the following Arts in Education supporters: Mechanics Savings Bank, Lewiston Auburn Rotary Breakfast Club, George and Helen Ladd Foundation, Edward Little High School, Margaret E. Burnham Charitable Trust, the Maine Arts Commission, the Lewiston Public Schools, the Dreamyard Project and Global Writes.