Located at 221 Lisbon Street in Lewiston, the LA Arts Gallery presents exhibitions throughout the year that reflect and honor the Twin Cities community. Exhibited artists generally have ties to LA or to Maine. 
With each show, LA Arts aims to bring individuals and groups together to strengthen our community through shared experiences and deeper cultural understanding.
Wednesday-Friday: 10:00 am – 4:00pm
Saturday: 10:00am – 12:00pm
By appointment: contact@laarts.org
If you're interested in volunteering at the Gallery or want to learn more about the space and upcoming exhibitions, please send us a message using the form below.
Inquire about the Gallery
Currently Showing at the Gallery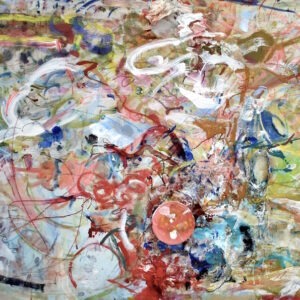 Bouchard says of her paintings, "I work in spurts on several paintings simultaneously in a journalistic manner, documenting clusters of daily life. Language, media, music, and studio detritus intertwine with memory and the present act of painting. I paint using colors without prejudice. The experience of color is one of a constant state of coming and going. I investigate the transitions between complementary colors, and view them as opportunities to change the habit of language knowing one color can't exist without the other. "
...
No event found!