Forêt Endormie is the genre-melding chamber ensemble led by guitarist and composer Jordan Guerette, known widely for his work with American black metal luminaries Falls of Rauros. Formed in 2016 in the "Forest City" of Portland, Maine, Forêt Endormie draws as much from the forms and fantasies of 20th century French composers Erik Satie and Olivier Messiaen, as they do the melancholic Neo-folk of Tenhi and Sol Invcitus and heavy minimalism of drone pioneers Earth.
Chris Robley is a singer-songwriter and award-winning poet who's made his home in the mill town of Lewiston, Maine.
His orchestral indie-pop and folk music has been praised by The LA Times, The Boston Globe, NPR's Second Stage, Performer, and others. Skyscraper Magazine said he is "one of the best short-story musicians to come along in quite some time."
Robley's poetry has been published in POETRY Magazine, Prairie Schooner, Poetry Northwest, Beloit Poetry, and more. He is the winner of Boulevard's Poetry Prize for Emerging Writers, a recipient of a Maine Literary Award in poetry, and was selected by Robert Pinsky as a finalist for the Dorset Prize.
Billy Carr: (performing solo for this event)
Fast, loud, slow, quiet, ecstatic, unhinged, demure and restrained. Thorny runs, hazy chords, free-floating grooves, infinitesimal spasms, dribs and drabs of this and that. A baby, an ugly pig's head, a dancing monster, a yellow raincoat, a high grav forty, and a thousand cakes. They're all just fairy tales. They've been called "avant-garde easy-listening," "dad-rock for the post-punk kids," and "not like the other folk." Sounds about right.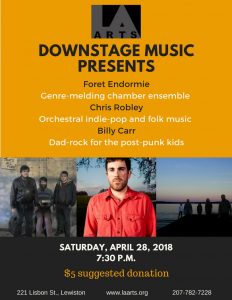 The Gallery at LA Arts is exhibiting Homework: New and Recent Works by the Art Teachers at Lewiston High School, from December 15 – January 20. An opening reception, coinciding with the final Artwalk of 2017, is scheduled for Friday, December 15th from 5-8pm, at LA Arts, 221 Lisbon Street, in Lewiston.
Artists included in the exhibition are: Jody Dube, ceramics; Nathaniel Meyer, painting, Kyna Pitula, drawing and painting; and Sarah Stocker, photography. The Gallery at LA Arts is open Monday – Friday from 12-4pm and Saturdays from 11am-3pm. Closed Wednesdays and Sundays. The gallery will also be open for Sparkle Sunday, December 17th. The exhibition will run through the month of January.
Jody Dube is a Lewiston native with a Bachelor of Fine Arts from the University of Southern Maine. Jody has been teaching Ceramics at Lewiston High School since 2001 and he received the Maine Art Education Outstanding Service to the Profession award in 2017. Jody's work reflects the long-standing vessel tradition in ceramic art, with emphasis on sculpture and form over function and utility.
The passage of time and the issues of decay and renewal are central to the imagery and conceptual content for his ongoing series of cups and vessels. Jody is also involved in composing music on guitar and bass. In his teaching, Jody seeks to open students up to making art as a means of centering themselves and finding peace and focus in an increasingly chaotic world.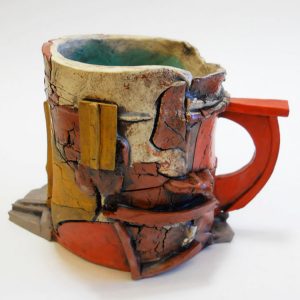 Nathaniel Meyer, based in Portland, Maine, holds a Bachelor of Fine Arts in Painting from Boston University and a Master of Fine Arts in Visual Arts from Lesley University College of Art and Design. Recipient of the 2015 Monhegan Artists Residency, he has exhibited his work both nationally and internationally. In addition to painting, Nathaniel records and performs traditional string band music and teaches Drawing and Painting at Lewiston High School.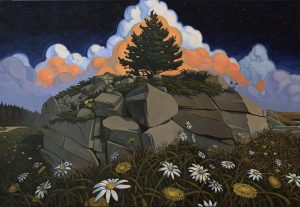 For Kyna Pitula, art is a way of life, not a hobby. She has Bachelor's Degree in Art Education from University of Maine Orono and received her Master's Degree in Clinical Mental Health from the University of Southern Maine. Pitula has used her practice of drawing and painting to integrate her love of art with her need to help others. The experience of using art as a vehicle for therapeutic healing has added depth to her work and has given her a solid foundation for teaching the students at Lewiston High School. Pitula has gained insight and new ideas through her students and feels that she has become more successful as an artist and a teacher through their enthusiasm and energy.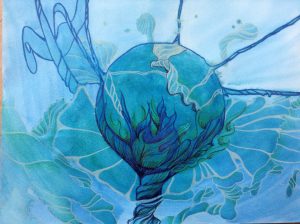 Sarah Stocker has been a teacher in the Lewiston School Department for the past nineteen years. She has developed a high school photography program for students, teaching both traditional film and darkroom skills as well as digital photography. Mrs. Stocker is a graduate of Rochester Institute of Technology and holds a degree in Photographic Illustration. She worked as a freelance photographer in advertising in the New York metro area prior to moving to Maine and teaching photography. She resides in Arrowsic, Maine, with her husband Tom Stocker.