Arts in Education Programs
Visual Arts:
Dia de los Muertos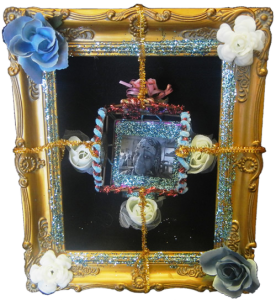 L/A Arts is did a series of cross cultural artist residencies with the Spanish classes at the Lewiston Middle and High School focused on Dia de los Muertos(Day of the Dead) It is a celebration practiced in Mexico, other parts of Latin America, and parts of the U.S. It is a family event to remember ancestors. Heard Museum Educational services Manager Gina Laczko said "To me, it's very interesting and in some ways a very healthy view of death, which Americans find so difficult. Americans don't even want to talk about aging let alone death." In some places people make skull masks, called calacas to wear in parades. Skulls, symbols of death are cast in sugar. In rural areas, families go to the cemetery, decorate graves with marigolds and candles, and eat the favorite foods of those passed on. Families also build altars in homes and on the street, adorning the altars with photos, flowers, candles, and favorite foods.
Dia de los Muertos is a time to celebrate life and to embrace Latino life and culture.
In conjunction with this L/A Arts offered a series of classes to the community at large(youth and adults) in our DownStage space at #5 Canal St Alley.

FILM:
"In the Blood" – Performance and potential classroom workshops
Overview:
In the Blood illustrates the life, skills and character of the turn-of-the-century Maine lumberman and river drivers. It employs film, photography, interviews, sound design, and a live musical score, to tell the story. By presenting a historical subject in a contemporary and entertaining manner using multimedia paired with compelling live music – a history lesson becomes an entertaining virtual journey into a bygone world.
Age Group: Middle and High School
Artists:
Directed by: Sumner McKane
Music by: Sumner McKane and Joshua Robbins
Current Schedule: 1 Hour Running Time
Olin Arts Center – February 3rd, 2012 at 7:30pm
305 College Street
Tickets at: www.batestickets.com

MUSIC:
DRUMMING:
Inanna, Sister in Rhythm – Performance, and classroom workshops
Overview:
Maine based percussion and vocal ensemble. Inanna explores the heritage and rhythms of West Africa through original arrangements and compositions invoking ancient traditions of the drum. Inanna offers performances and workshops which include description of West African Culture, and invite the direct participation of the listeners in the rhythmic training exercises including body percussion, movement and drumming. Multiple day residencies in schools. Worked with Mike Davis at Sherwood Heights Elementary.
Age Group: Elementary, Middle and High School
Artists:
Ms. Annegret Baier
Tori Morrill
Michael Wingfield – Boys
Erma Colvin Dance Educator – Haitian and African Dance
Schedule: Second and Third Week of March, April
FOLK:
Healthy Lifestyle: Musical performance, 45 Minutes
Overview:
A song filled program as kids learn how to avoid colds and the flu and develop healthy eating choices that will last a lifetime. Learn about the new USDA "My food plate" and how we need to eat right to stay healthy.
The Julie and Brownie Show has been delighting family audiences in person and on radio and TV since 1991 in the USA and Canada. Their children's songs and educational messages have earned critical praise and awards.
www.juliebrownie.com
Age Group: Elementary
Artists:
Brownie McIntosh and Julie Thompson

DANCE:
Bates College Dance Program, "Teach, Tour, Perform": Performance and classroom workshops
Overview:
This year the Bates College Dance program is most happy to have Maine's prominent Ballroom artist Laurence Miller return and choreograph, for the third year in a row, a 30 minute movement piece. Laurence Miller is artistic director and president of Gotta Dance 2, Inc., and teaches social and competitive ballroom dancing in both American and International style. Our program for your school remains the same: the Bates Students begin by facilitating individual 30 minute movement lessons right in your classrooms. After these engaging lessons, they perform their 30 minute work created by guest artist Laurence Miller. The Bates students will be learning a variety of American and International social dances to incorporate in their performance. Your students will thoroughly enjoy exploring and being exposed to how these dances provide a creative environment in which to learn.
Age Group: Elementary
Artists:
Bates college dance students
Deb Irons, Teaching Artist
Carol Dilley, Head of Dance, Bates College
STORYTELLING – Theater and Literacy
"One Community-Many Stories" – Storytelling with Michael Parent and Antonia Rocha
Overview:
Master storytellers Michael Parent and Antonia Rocha will give performances in the schools, followed by a three week residency in classes creating original stories with children based on family traditions (food, holiday's, games) across cultures. The workshop will include performance elements, teaching children to take the written word of their stories and bring them to life. It will culminate in published story celebrations where some students can perform their pieces for another classroom.
Age Group: Elementary, Middle
Schedule:
February 27th – Performance Dates
February 28th: First Class
March 5th: Second Week
March 12th: Third Week
March 15th-16th: Sharing Dates with Classes
Michael Parent: Available in May as well for a prospective residency
THEATER:
ANANSI TALES:
Performances at the Public Theater with potential pre and post workshops in schools:
Overview:
Crabgrass Puppet Theater, presents A side-splitting selection of famous folktales from Africa starring Anansi the Spider, whose appetite always overrules his intellect. Anansi loves to eat and hates to work, so he tries to trick other animals out of their food. But there's no free lunch for Anansi, because all of his schemes leave him hungrier than ever!
Anansi is one of the classic trickster characters in world folklore. These comical African folktales are both entertaining and instructive; because he puts his own desires ahead of the needs of his community, Anansi often ends up exiled to the corner of the room.
http://www.crabgrasspuppets.com
Current Schedule:
Public Theater – May 21, (9am, 11:30am), 22nd (9am, 11:30am), 23rd (9am only)
Figures of Speech Theatre – Artist in Residence Programs
Trickster Tales from Around the World
Overview:
Literature is unforgettable when students perform the stories they read. And shadow puppetry is an ideal medium for telling stories with multiple characters and magical effects. This residency highlights trickster tales adapted in books by Caldecott winning author/illustrator Gerald McDermott, including Raven, Zomo the Rabbit (West Africa), Arrow to the Sun (Pueblo), Anansi the Spider (Ghana), and Coyote (American Southwest).
Age Group: Elementary, K-4
Artists:
Ian Bannon of Figures of Speech Theatre