ANNOUNCES THE VENUES AND PERFORMANCES FOR AUGUST ARTWALK L/A 2014
FRIDAY, AUGUST 29TH 5:00 – 8:30 P.M.
DOWNTOWN LEWISTON (LISBON STREET)

Special Galleries:
ArtVan - Young people's Artwork (Lamey-Wellehan 110 Lisbon Street)
Grace Street Services - Exhibit on addiction recovery (Le Messager Gallery 223 Lisbon St.)
Tri-County Mental Health – Art Gallery (Maine Democratic Office 124 Lisbon Street)
David Footer – Renowned local wildlife artist (L/A Arts 221 Lisbon Street)
"Vintage Photos" (Dube Flowers Window Exhibit 195 Lisbon Street)
Katahdin Studio Furniture (Kimball Street Studios 191 Lisbon Street)
Photographer Michael A. Heon (Chill Yoga – 2nd Fl. 178 Lisbon Street)
Live Music:
Maine Music Society's Chamber Singers – 6:00-6:30 & 7:30-8:00 p.m. (Le Messager 223 Lisbon St.)
Tinpanic Steel Band  - 7:15 – 8:30 p.m. (Dufresne Plaza, Lisbon Street)
The Juke Joint Devils – 8:00 p.m. – (She Doesn't Like Guthrie's, 115 Middle Street)
LEWISTON – L/A Arts' Artwalk August 29th will turn downtown Lewiston into an impressive arts district.  This month there is an outstanding display of visual art that is not to be missed.  With over twenty galleries in local downtown businesses, restaurants, window displays, and empty storefronts, a diverse and beautiful selection of artwork will highlight the event.  L/A Arts continues its drive to sell 10 pieces of art!  To support the work of our talented base of local artists, Artwalk L/A urges you to think not only about enjoying the work during Artwalk, but forever, by purchasing it!  Our artists deserve our support, as they are the lifeblood of the event, and contribute in important ways to the vitality and creativity of our Twin Cities.  So take time this month to browse all the venues, as there is much to see.  L/A Arts takes no commission on art sales at its 10+ galleries/exhibits.  Make sure to check out our online artist catalog of artwork on the Artwalk website (www.artwalklewistonauburn.com) and find out more up to date information about the event.  Come walk with us this August!
Special Exhibit with Artist David Footer L/A Arts Gallery – 221 Lisbon Street (Open August 25th)
L/A Arts is proud to exhibit the work of local master artist David Footer as part of Artwalk L/A August. http://davidfooter.com/ David Footer, now 82 years of age, has been involved with nature and wildlife on many levels for over 70 years.  Since 1994, his art has been on the covers of Maine Fish and Wildlife, Canada's Eastern Woods and Waters, and in 2002, a 13-page feature story was published in the Art of Angling Journal. His work has been of interest to numerous other publications over the years, ranging from fly- fishing magazines, books and newspapers, and most recently in a pictorial publication from the Images of America series, titled "Rangeley Lakes Region," by Don Palmer, President of the Rangeley Region Guides' & Sportsmen's Association. Palmer gives Dave credit for carrying on the mastery of the taxidermy craft, handed down to him from Herb Welch.  Perhaps most importantly of all, Dave has gained recognition for his devotion to helping and supporting many programs dedicated to the use and protection of the great outdoors. He has received both the "Award of Merit" and "Certificate of Appreciation" from the "Hooked on Fishing, Not On Drugs" program from The Department of Inland Fisheries and Wildlife's Maine Warden Service. Maine's chapter of The Izaak Walton League, as well as many chapters of Trout Unlimited and Ducks Unlimited throughout the state and country. They have given recognition to Dave for his outstanding support and generosity through his art.  
ArtVan An exhibit of young people's artwork Lamey Wellehan Gallery: 110 Lisbon Street
Celebrating it's 10 year Anniversary!!  ArtVan is a free mobile arts therapy program that brings the arts in a colorful painted van to children, teens, and adults who have the least amount of social services, after school and summer activities available to them.  ArtVan provides the arts as a form of expression to safely communicate thoughts, feelings and ideas into tangible works of art.  Our mission is to provide a creative and collaborative environment to encourage Youth who have little or no arts access to fully express their imaginations, relationships and experiences within themselves, among their peers and across our communities.Presently, ArtVan works to sustain its core neighborhood programs in Bath, Brunswick, Lewiston Auburn and Biddeford, Maine. To learn more about the work we do and how you can be a part of this unique program, please visit our website at www.artvanprogram.org and/or contact Jamie Silvestri at jamie@artvanprogram.org OR 207-650-1608.  Thank you!
August, 2014 Businesses/Venues: She Doesn't Like Guthrie's (115 Middle St.), J. Dostie Jewelers (4 Lisbon St.), Gateway Window Exhibit (11 Lisbon St.), Androscoggin Bank (30 Lisbon St.), Argo Marketing (64 Lisbon Street),Lyceum Gallery (49 Lisbon St.), Poliquin Hearing & Optical Window Exhibit (50 Lisbon Street), The Vault (84 Lisbon Street), The Cupcakery/Rainbow Bikes (97 Lisbon Street), Lamey Wellehan Gallery (110 Lisbon St.), Lamey Window Exhibit (113 Lisbon St.), Forage Market (180 Lisbon St.), Chill Yoga (2nd Floor-178 Lisbon St), Downtown Handmade & Vintage (182 Lisbon St.), Life Ideals (3rd Floor- 178 Lisbon), Hardy Wolf & Downing (186 Lisbon St.), Kimball Street Studio (191 Lisbon St.) Dube's Flowers Window Exhibit (195 Lisbon St.), Lewiston Public Library (200 Lisbon St.), L/A Arts (221 Lisbon St.), Maine Democratic Office (124 Lisbon Street) New Beginnings Outreach Program Window Exhibit (245 Lisbon St.) Le Messager (223 Lisbon St).
Live Music:
The Maine Music Society's Chamber Singers 6:00-6:30 & 7:30-8:00 p.m.
(Le Messager Gallery 223 Lisbon Street)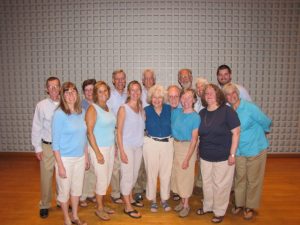 It is our great joy to announce that members of the Maine Music Society Chamber Singers will be performing for the August Artwalk.  The 20 voices of the Chamber Singers are members of the Androscoggin Chorale who focus on music sung a cappella.  They perform music from madrigals to arrangements of songs by the Beatles.  They have been involved in several concerts ranging from programs at the Cumston Hall in Monmouth to the Salute to Veterans at the Colisee last November.  The singers performed at the June 27th Artwalk and at the summer series at the Basilica of Ss. Peter and Paul in Lewiston on July 30.  Because they perform without accompaniment, theycan travel easily anywhere in the state and look forward to participating in this next Art Walk on Friday August 29.
Tinpanic Steel Band: Dufresne Plaza – 7:15 – 8:30 p.m.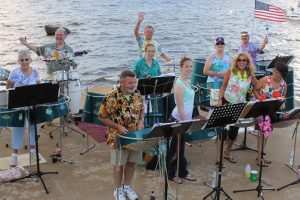 The Tinpanic Steel Band will be rockin' Lewiston/Auburn's Art Walk  on Friday, August 29th at Dufresne Plaza on Lisbon. St., Lewiston from 7:15 – 8:30 p.m.  Tinpanic is L/A's own 10-piece steel drum band, with a repertoire ranging from the Big Band era to calypso island favorites.  The concert is free and open to the public.
Live Music with The Juke Joint Devils - She Doesn't Like Guthries: 8 p.m.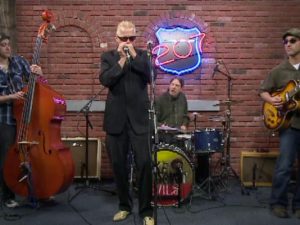 Friday, June 27th, The Juke Joint Devils will perform at She Doesn't Like Guthries. These guys take you back to a time when small house bands played from the soul, on real instruments, could swing like crazy, and anything could happen on stage. The Juke Joint Devils play a mix of West Coast and Chicago Blues, with a bit of spice from New Orleans and elsewhere. The band features International Blues Challenge finalists Tommy O'Connell on harp and vocals and Sean Bowman standup bass, Johnny Moran on drums, and with Stefan Iris on guitar.
L/A Arts would like to thank the 2014 Artwalk Sponsors: Underwriting Sponsor:

Additional Sponsors:
Be part of the Artwalk movement to celebrate the arts in Lewiston & Auburn. Interested in submitting art?  Volunteering?  Need more information? Contact L/A Arts: 207-782-7228 or email Artwalk: mail@laarts.org Find us on Facebook or visit our websites: